Two new Internet options have become available on Mount Lemmon over the past year, providing high speed service to previously unserviceable cabins.
T-Mobile, the nationwide mobile phone carrier, launched T-Mobile Home Internet (https://www.t-mobile.com/home-internet) on Mount Lemmon earlier this year.  For a flat-rate of $50 per month, tests on the Mountain have demonstrated a consistent 80 megabits of download speed and 7 megabits of upload speed.  Service is provided using a small all-in-one indoor device which acts as both radio link and WiFi router.  Unfortunately, T-Mobile's mapping has difficulty finding individual cabins.  Using the Post Office's address as the service address and a Tucson shipping address should bypass this issue.  A mobile phone app guides the user through installation.  For best performance, the unit should be placed in a window facing Radio Ridge (west of Summerhaven) on the highest floor of your cabin.  In my testing, a less suitable location still worked, but with reduced performance.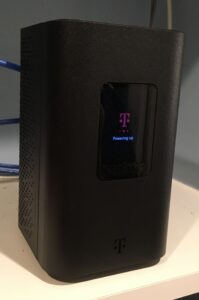 SpaceX, the Elon Musk-helmed company intent on landing humans on Mars, has a space-based offering cleverly named StarLink (https://www.starlink.com/).  Unlike the slow and pricey satellite systems of the past (HughesNet, ViaSat, etc.), StarLink offers flat-rate plans, faster speeds and latency comparable to terrestrial systems.  Older systems rely on a single satellite in a fixed position in the sky at 22,500 miles from the ground.  At this distance, the speed of light dramatically limits the available speed.  StarLink uses a constellation of satellites only 350 miles above the Earth.  The user devices automatically track satellites as they move across the sky and switches between them as needed.  The result is a connection that works for latency-sensitive applications like Zoom video calling.  This method does require a clear view of the sky.  The more obstructions in your view, the more frequently the connection will drop.  Another downside is cost – $599 for the equipment, and $110 per month for the service.  For an extra $25 per month, StarLink will turn allow you to use the equipment away from your cabin – a boon for Recreational Vehicle owners who want to take their connection on the road.  Speeds from Summerhaven were similar to T-Mobile's.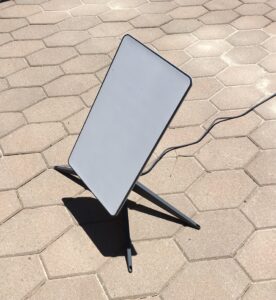 Simply Bits, which was purchased by Toronto-based Tucows in November, 2021, continues to provide high speed Internet service (https://www.simplybits.com/residential/home) over a terrestrial microwave network.  Management of the Southern Arizona operation is still based in Tucson, with local technicians performing installations and repairs.  Simply Bits' connections require an unobstructed view of one of their distribution sites and offer residential speeds.  While the published speeds offered on Mount Lemmon aren't as high as those from T-Mobile and StarLink, the latency (the time it takes for traffic to go from your cabin to the public Internet) is lower and the user experience with their 25 megabit download plan is similar to the T-Mobile and StarLink connections.  Generally, higher speeds only provide a noticeable benefit during large file downloads, such as operating system updates.
So which connection is best for you?  If you have a clear line of sight to a Simply Bits distribution site, their professional installation is by far the easiest choice.  If their technician finds that they cannot install at your cabin (usually due to foliage or terrain obstructions), your order is cancelled and you are not billed for their attempt.
If your cabin is surrounded by dense foliage. T-Mobile is worth a try.  Using their 15-day trial period, you can test the service at your cabin.  If it doesn't work reliably, you can ship the equipment back with no financial obligation.
Due to its higher cost, clear sky requirement and more complicated self-installation, I consider StarLink to be the provider of last resort – unless you plan to use it on camping trips.  Rumors of a professional installation option haven't materialized yet, so unless you're comfortable with climbing on your roof, I would avoid this option for now.